Toyota Locksmith
Expert Toyota Locksmith Service
Toyota is a popular car brand that many people trust and rely on for transportation. However, just like any other vehicle, Toyota cars can also experience lock and key issues, such as getting locked out, losing or breaking keys, or having a damaged ignition switch. In such cases, it is essential to seek the services of a reliable Toyota locksmith.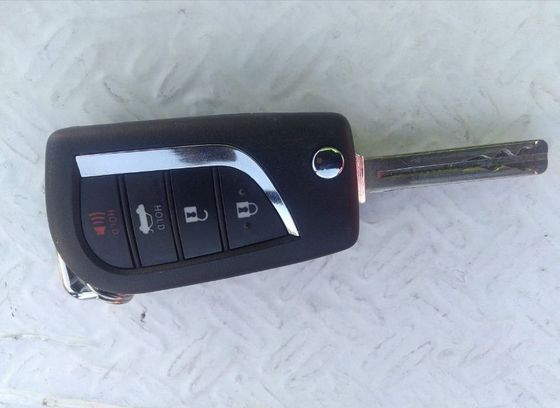 Toyota keys are a crucial component for starting and driving your car. However, if you've lost your key or it's been damaged, you'll need a replacement. This is where Key Guys comes in. Our expert Toyota locksmiths provide high-quality key replacement services to help you get back on the road quickly and efficiently.
What Types of Toyota Keys Can We Replace?
At Key Guys, we have experience replacing all types of Toyota keys, including:
Traditional keys: These are the basic keys that come with most Toyota models. They have a metal blade that you insert into the ignition to start the car.

Smart keys: Smart keys are more advanced than traditional keys. They use a small computer chip to communicate with your car's computer and allow you to start the car with the push of a button.

Remote keys: Remote keys are similar to smart keys, but they also have buttons that allow you to lock and unlock your car's doors.
...
more
At Key Guys, we understand the frustration and inconvenience that comes with Toyota lock and key issues, and that's why we offer top-notch Toyota locksmith services. Our team of highly skilled and experienced locksmiths is available 24/7 to help you with any Toyota lock and key issues you may be facing.
Key Guys offer a wide range of Toyota locksmith services
Toyota Car Key Replacement:
We offer high-quality Toyota car key replacement services for all Toyota models, including Camry, Corolla, Prius, and RAV4. We use state-of-the-art equipment and advanced technology to ensure that your new keys are cut and programmed accurately to match your car's unique specifications.
Toyota Ignition Repair:
If you're experiencing problems starting your Toyota car due to a faulty ignition, our team of experienced locksmiths can help you with Toyota ignition repair services. We can diagnose the issue and provide the necessary repairs to get your car running smoothly again.
Toyota Key Fob Replacement:
We also offer Toyota key fob replacement services for all Toyota models. Our team of experts can replace your old, damaged, or lost key fob with a new one that is programmed to work seamlessly with your car.
Toyota Lockout Services:
If you're locked out of your Toyota car, our team of skilled locksmiths can provide you with reliable Toyota lockout services. We use non-destructive entry techniques to get you back into your car quickly and without causing any damage.
At Key Guys, we pride ourselves on providing our clients with exceptional Toyota locksmith services that are both reliable and affordable. We understand that Toyota lock and key issues can happen at any time, which is why we offer 24/7 emergency locksmith services.
If you're facing any Toyota lock and key issues, don't hesitate to contact us. Our team of highly skilled and experienced Toyota locksmiths will provide you with fast, reliable, and affordable services that will get you back on the road in no time.