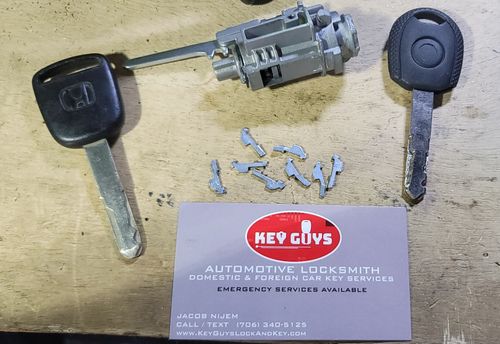 Don't Let a Broken Ignition Leave You Stranded!
Ignition problems can happen at the most inconvenient times. But with our mobile ignition repair services, we'll come to you and fix the problem on the spot.
We'll take care of it!
- Ignition repair
- Key stuck in ignition
- Key wont turn in ignition
Key Stuck in Ignition? Repair Services at Your Fingertips!
Are you tired of struggling with your car's ignition system? Don't let a broken ignition ruin your day. Let us help!
Are you experiencing problems with your car's ignition?
Is your key getting stuck in the ignition or not turning at all?
Is your steering wheel not unlocking or is the ignition switch failing to start the engine?
If you answered yes to any of the above questions, then you've come to the right place.
We'll Get You Back on the Road in No Time!
Our experienced and certified technicians have the skills and knowledge to diagnose and repair any ignition problem. We specialize in ignition switch repair, ignition lock cylinder repair, and more.
Our technicians are trained to handle any type of ignition repair, including key stuck in ignition, key will not turn in ignition, and ignition lock cylinder repair.
We use the latest technology and equipment to diagnose and repair your ignition system quickly and efficiently.
Our ignition repair services are affordable, and we offer a satisfaction guarantee.
Contact Us Now for Fast Ignition Repair Services.
Whether you're at home, work, or on the side of the road, our mobile ignition repair services are just a phone call away. Contact us now and let us help you get back on the road.
Call us now to schedule an appointment for ignition repair services.
We offer 24/7 emergency ignition repair services for your convenience.
Don't let a broken ignition leave you stranded. Contact us now for fast and reliable ignition repair services.